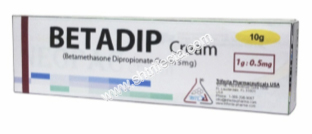 Betamethasone Dipropionate Cream 
Product Information:Betamethasone dipropionate is a glucocorticoid steroid with anti-inflammatory and immunosuppressive abilities. It is applied as a topical cream, ointment, lotion or gel (Diprolene) to treat itching and other minor skin conditions such as eczema.
Betamethasone Dipropionate is a "super high potency" corticosteroid used to treat inflammatory skin conditions such as dermatitis, eczema and psoriasis. It is a synthetic analog of the adrenal corticosteroids. Although its exact mechanism of action is not known, it is effective when applied topically to cortico-responsive inflammatory dermatoses.
Product Packaging – The dosages available for this product are:
Betamethasone dipropionate cream 1g/0.5mg
This product is packaged 10g/tube/box, 20g/tube/box, or according customer's requirements.