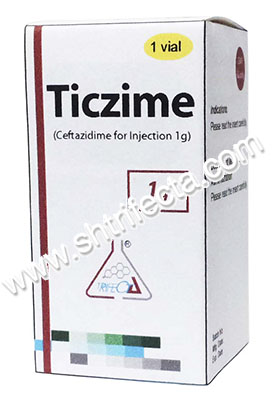 Cefotazidime for injection 1g
Product information: Ceftazidime (INN) is a third-generationcephalosporin antibiotic. Like other third-generation cephalosporins, it has broad spectrum activity against Gram-positive and Gram-negative bacteria. Unlike most third-generation agents, it is active against Pseudomonas aeruginosa, however it has weaker activity against Gram-positive microorganisms and is not used for such infections.
Ceftazidime is usually reserved for the treatment of infections caused by Pseudomonas aeruginosa. It is also used in theempirical therapy of febrile neutropenia, in combination with other antibiotics. It is usually given IV or IM every 8–12 hours (2 – 3 times a day), with dosage varying by the indication, infection severity, and/or renal function of the recipient.
Ceftazidine is first line treatment for the rare tropical infection, melioidosis.
Product Packaging The dosages available for this product are:
Ceftazidime powder for injection 1g
Ceftazidime powder for injection 500mg
Ceftazidime powder for injection can be packaged as 1vial / tray, 1 tray / box, 1 vial + 1 ampoule of water for injection / tray, 1 tray / box or according to customer requirements.