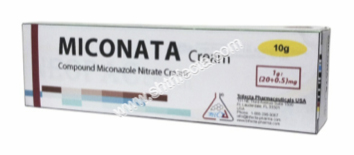 Compound Miconazole Nitrate Cream
Product Information: Miconazole is an imidazole antifungal agent, commonly applied topically to the skin or to mucous membranes to cure fungal infections. It works by inhibiting the synthesis of ergosterol, a critical component of fungal cell membranes. It can also be used against certain species of Leishmania protozoa which are a type of unicellular parasite that also contain ergosterol in their cell membranes. In addition to its antifungal and antiparasitic actions, it also has some antibacterial properties.
Product Packaging – The dosages available for this product are:
Compound Miconazole Nitrate cream 1g/(20 mg +0.5mg)
This product is packaged 10g/tube/box, 20g/tube/box, or according customer's requirements.