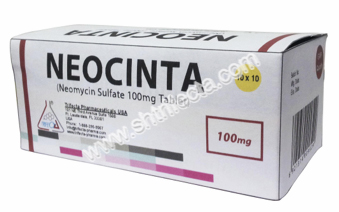 Neomycin Sulfate Tablets
Product Information: Neomycin is an aminoglycoside antibiotic found in many topical medications such as creams, ointments, and eye drops. The discovery of neomycin dates back to 1949. It was discovered in the lab of Selman Waksman, who was later awarded the Nobel Prize in Physiology and medicine in 1951. Neomycin belongs to aminoglycoside class of antibiotics that contain two or more aminosugars connected by glycosidic bonds. Due to the inherent oto- and nephrotoxicity of these substances, systemic use has declined, as safer alternatives have become available
Product Packaging – The dosages available for this product are:
Neomycin Sulfate Tablets 100mg
It is packed in 10 tablets / blister, 10 blisters / box, or according to customer requirements.