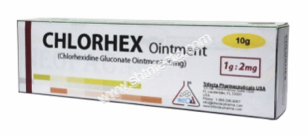 Chlorhexidine Digluconate Ointment
Product Information: Chlorhexidine is a cationic polybiguanide (bisbiguanide). It is used primarily as its salts digluconate. Chlorhexidine is used in disinfectants (disinfection of the skin and hands), cosmetics (additive to creams, toothpaste, deodorants, and antiperspirants), and pharmaceutical products (preservative in eye drops, active substance in wound dressings and antiseptic mouthwashes).
Product Packaging – The dosages available for this product are:
Chlorhexidine cream 1g/2mg
This product is packaged 10g/tube/box, 20g/tube/box, or according customer's requirements.