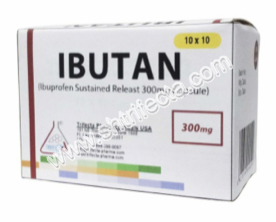 Ibuprofen Sustained Release Capsules
Product Information:Ibuprofen is a nonsteroidal anti-inflammatory drug (NSAID) used for relieving pain, alleviating fever, and reducing inflammation.
Ibuprofen has an antiplatelet effect, though it is relatively mild and somewhat short-lived compared with aspirin or prescription antiplatelet drugs. In general, ibuprofen also has a vasodilation effect. Ibuprofen is a 'core' medicine in the World Health Organization's Model List of Essential Medicines necessary to meet the minimum medical needs of a basic healthcare system.
Product Packaging – The dosages available for this product are:
The dosages available for this product are:
Ibuprofen sustained Release capsules 0.3g
This product is packaged 10 capsules x 10blister/box, 1000capsules/jar, or according customer's requirements.