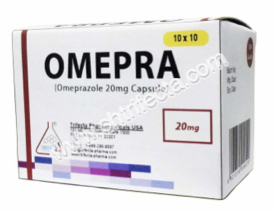 Omeprazole Capsules
Product Information:Omeprazole (INN) is a proton pump inhibitor used in the treatment of dyspepsia, peptic ulcer disease, gastroesophageal reflux disease, laryngopharyngeal reflux, and Zollinger–Ellison syndrome.
Omeprazole is one of the most widely prescribed drugs internationally and is available over-the-counter in some countries.
It is on the World Health Organization's List of Essential Medicines, a list of the most important medications needed in a basic health system.