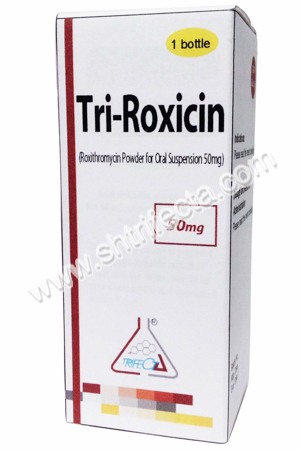 Roxithromycin Powder for Oral Suspension
Product Description: Roxithromycin is a semi-synthetic macrolide antibiotic. It is used to treat respiratory tract, urinary and soft tissue infections. Roxithromycin is derived from erythromycin, containing the same 14-membered lactone ring. However, an N-oxime side chain is attached to the lactone ring. It is also currently undergoing clinical trials for the treatment of male-pattern hair loss.[1]
Roxithromycin is available under several brandnames, for example, Biaxsig, Coroxin, Romac, Roxar, Roximycin, Roxl-150, Roxo, Roxomycin, Rulid, Rulide, Surlid, Tirabicin and Xthrocin. Roxithromycin is not available in the United States. Roxithromycin is available in Australia. Roxithromycin has also been tested to possess antimalarial activity.
Product Packaging – The dosages available for this product are:
Roxithromycin powder for oral suspension 50mg
Roxithromycin powder for oral suspension can be packaged 50mg/sachet, 20sachet/box, or according to the customer's specifications.