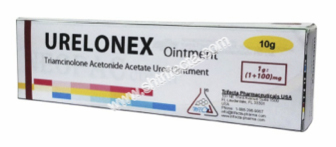 Triamcinolone Acetonide Acetate Urea Ointment
Product Information: Triamcinolone acetonide is a synthetic corticosteroid used to treat various skin conditions, to relieve the discomfort of mouth sores, and in nasal spray form, to treat allergic rhinitis. It is a more potent derivative of triamcinolone, and is about 8 times as potent as prednisone. A urea -containing cream is a potent keratolytic emollient. It generally contains about 10% to 40% urea for skin use, and 50% urea for nail use.
Product Packaging – The dosages available for this product are:
Triamcinolone acetonide acetate urea ointment 1g/(1mg+100mg)
Triamcinolone acetonide acetate urea ointment can be packaged 5g/tube/box, 600box/box, or according to the customer's specifications.