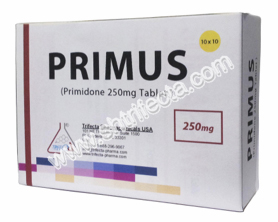 Primidone Tablets
Product Information: Primidone is an anticonvulsant of the pyrimidinedione class, the activemetabolites of which, phenobarbital (minor) and phenylethylmalonamide(PEMA) (major), are also anticonvulsants. It is used mainly to treatcomplex partial, simple partial, generalized tonic-clonic seizures,myoclonic, and akinetic seizures. Since the 1980s it has been a valuable alternative to propranolol in the treatment of essential tremor. Unlike other anticonvulsants such as carbamazepine and valproic acid, primidone is rarely used in the treatment of bipolar disorder or any other psychiatric problem, although this presents a risk for the worsening of some disorders. It is also occasionally used in treatment of neuropathic pain, trigeminal neuralgia, and migraine. Primidone has been occasionally used to treat long QT syndrome, cerebral palsy, andathetosis.
Product Packaging – The dosages available for this product are:
Primidone Tablets 250mg
It is packed in 10 tablets / blister, 10 blisters / box, or according to customer requirements.