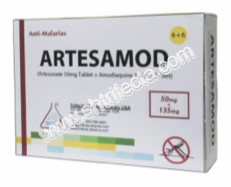 Amodiaquine/ Artesunate tablets 300mg/100mg
Product Information: Amodiaquine/Artesunate is a fixed-dose artemisinin-based combination therapy (ACT) indicated for the treatment of acute uncomplicated Plasmodium falciparum malaria.
This combination has been tested and proved to be efficacious in many areas where amodiaquine retains some efficacy. A potential disadvantage is a suggested link with neutropenia. It's recommended by the WHO for uncomplicated falciparum malaria.
Product Packaging – The dosages available for this product are:
Amodiaquine/Artesunate 300mg/100mg
This product is packaged (6+6) tablets/blister/box, (3+3)tablets/box, or according customer's requirements.