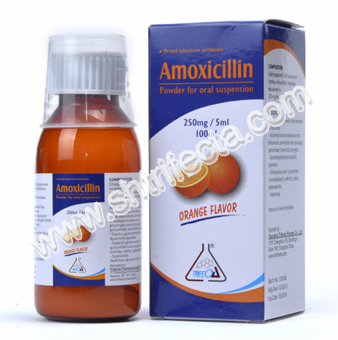 Amoxicillin Powder for Suspension
Product Description: Amoxicillin belongs to a class of antibiotics called penicillins. These antibiotics all have a similar mechanism of action. They do not kill bacteria, but they stop bacteria from multiplying by preventing bacteria from forming the walls that surround them. Amoxicillin is effective against many different bacteria including H. influenzae, N. gonorrhoea, E. coli, Pneumococci, Streptococci, and certain strains of Staphylococci.
Amoxicillin is used to treat infections due to organisms that are susceptible to the effects of amoxicillin. Common infections that amoxicillin is used for include infections of the middle ear, tonsils, throat, larynx (laryngitis), bronchi (bronchitis), lungs (pneumonia), urinary tract, and skin. It also is used to treat gonorrhea.
Product Packaging – The dosages available for this product are:
Amoxicillin Powder for Suspension 125mg / 5ml
Amoxicillin Powder for Suspension 250mg / 5ml
Amoxicillin Powder for Suspension is available in 60ml and 100ml bottles. It is packed in 1 bottle / box or according to the customer's requirements.