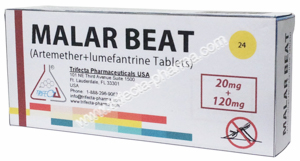 Artemether + Lumefrantrine Tablets
Product Information:
Artemether + Lumefrantrine Tablets contain a fixed combination of two antimalarial active ingredients, artemether, an artemisinin derivative, and lumefantrine. Both components are blood schizontocides.
This combination has been extensively tested in 16 clinical trials, proving effective in children under 5 and has been shown to be better tolerated than artesunate plus mefloquine combinations. There are no serious side effects documented but the drug is not recommended in pregnant or lactating women due to limited safety testing in these groups. This is the most viable option for widespread use and is available in fixed-dose formulas thus increasing compliance and adherence. It's recommended by the WHO for uncomplicated falciparum malaria
Product Packaging – The dosages available for this product are:
Artemether and lumefantrine tablet 20mg/120mg
Artemether and lumefantrine tablet 40mg/240mg
Artemether and lumefantrine tablet 80mg/480mg
This product is packaged 6 tablets x4 blister/box, (6 tablets x 2 blister boxes, 6tablets/blister, or according customer's requirements.