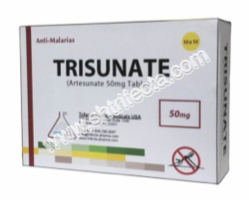 Artesunate tablet
Product Information: Artesunate is part of the artemisinin group of drugs that treat malaria. It is a semi-synthetic derivative of artemisinin that is water-soluble and may therefore be given by injection. It is sometimes abbreviated AS.
The World Health Organization recommends intramuscular or intravenous artesunate as the first line treatment for severe malaria. Artesunate was shown to prevent more deaths from severe malaria than quinine in two large multicentre randomized controlled trials from Africa and Asia A subsequent systematic review of seven randomized controlled trials found this beneficial effect to be consistent across all trials.
Product Packaging – The dosages available for this product are:
Artesunate tablet 50mg
This product is packaged 12tablets/blister/box, or according customer's requirements.