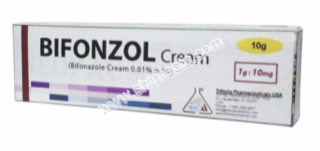 Bifonazole Cream 
Product Information: Bifonazole is an imidazole antifungal drug. Bifonazole has dual mode of action. It blocks transformation of 24-methylendihydrolanosterol to desmethylsterol in fungi together with inhibition of HMG-CoA. This enables fungicidal properties against dermatophytes and distinguishes bifonazole from other antifungal drugs.
Product Packaging – The dosages available for this product are:
Bifonazole cream 1g/10mg
This product is packaged 10g/tube/box, 20g/tube/box, or according customer's requirements.