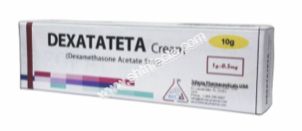 Dexamethasone Acetate Cream
Product Information: Dexamethasone is a potent synthetic member of the glucocorticoid class of steroid drugs that has anti-inflammatory and immunosuppressant effects. It is 25 times more potent than cortisol in its glucocorticoid effect, while having minimal mineralocorticoid effect. Dexamethasone is used to treat many inflammatory and autoimmune conditions, such as rheumatoid arthritis and bronchospasm.
Product Packaging – The dosages available for this product are:
Dexamethasone acetate cream 1g/0.5mg
This product is packaged 10g/tube/box, 20g/tube/box, or according customer's requirements.