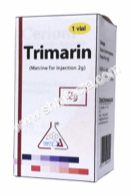 Matrine for Injection 0.2g/0.15g
Product Information:Matrine is an alkaloid found in plants from the Sophora genus. It has a variety of pharmacological effects, including anti-cancer effects, and action as a kappa opioid receptor and µ-receptor agonist.
Matrine possesses strong antitumor activities in vitro and in vivo. Inhibition of cell proliferation and induction of apoptosis are the likely mechanisms responsible for matrine's antitumor activities. Matrine is a component of the traditional Chinese medical herb Sophora flavescens Ait.
Matrine and the related compound oxymatrine have an antifeedant effect against Formosan subterranean termite.