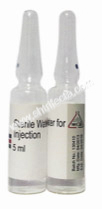 Sterile Water Injection
Product Information: Sterile Water for Injection, USP is a sterile, nonpyrogenic preparation of water for Injection, which contains no bacteriostat, antimicrobial agent or added buffer and is supplied only in single-dose containers to dilute or dissolve drugs for Injection. For I.V. Injection, add sufficient solute to make an approximately isotonic solution.
Product Packaging –
The dosages available for this product are:
Sterile Water for Injection 2ml,5ml,10ml
The products can be packaged 10vials/tray, 10tray/box, or according to the customer's specifications.